Credit insurance is a
tool that enables companies that have granted their customers payment terms to cover their risk of non-payment
. Given the importance of late payments and the consequences of non-payment on the cash flow of companies,
credit insurance is the only tool that allows this risk to be managed.
The figures prove it: in 2019, the amount of credit insurance premiums reached 7 billion, against 6 billion in 2016 (Sources:
ISACA
).
However, credit insurers are frequently accused of not providing sufficient support to companies, of withdrawing their cover in difficult times (particularly during the Covid-19 crisis) or of not covering the risk when it becomes concrete!
So why do so many companies use credit insurance? Chateaudun Credit provides you with some answers.
A tool for information and prevention
Credit insurance is first and foremost an information tool, supporting your company's credit management practices. What payment terms can I grant my clients? How much of the client's outstanding balance will this represent over time? Depending on these parameters, a guarantee can be given by the credit insurer.


The guarantees granted by a credit insurer represent a key indicator of the financial strength of your clients. In addition to the public information provided by commercial information providers (Creditsafe, Altares, etc.), the credit insurer has access to more detailed and confidential information, such as your clients' payment behaviour with their other suppliers, for example.
An outstanding collection strength
Taking out a credit insurance also provides access to an efficient collection service. The weight of credit insurers is such that a client will often be more inclined to pay his/her unpaid invoices in order to avoid having his/her supplier activate his/her credit insurance. In fact, there is a real risk that a company with late payments will lose all of its supplier payment terms if an insurer initiates a collection action! The impact on cash flow (and therefore on the business in general) is often disastrous.


Furthermore, the regional network of credit insurers is very dense (in France and export included), which increases the efficiency of collections. This is a significant advantage if your company has a strong export presence (or wishes to expand into the export market), where dunning and collection management is more complex than in your domestic market.
A support for financing your receivables
Covering the risk of non-payment, information, prevention and collection are all essential services for the good control of your clients' risk. In addition to improving your company's credit management policy, credit insurance becomes essential when it comes to financing your accounts receivables.


When setting up a factoring contract, the factor requires good credit insurance coverage of the clients item (at least 60 to 70%). The factor wishes to finance the company's clients who are guaranteed by the credit insurer. When a credit insurance policy is already in place, the factor can use the existing guarantees. This speeds up and facilitates its intervention. Otherwise, a credit insurance study must be carried out in parallel with the factoring study.
To go further
There are a multitude of contracts adapted to the specificities of each sector. It is therefore advisable to carry out a detailed study of your business and your customer accounts before taking out an insurance policy. Which insurer should I choose? What will be my main selection criteria? How much does such insurance cost?
Chateaudun Credit, as a specialising credit insurance broker, provides you with a team dedicated to the study, implementation and daily support of your insurance policies.
To know more, do not hesitate to contact us using our contact form or check
this page
to discover our approach.
These articles may interest you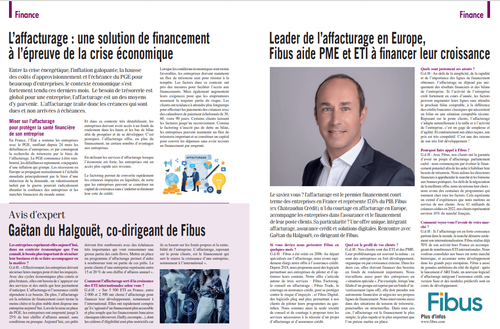 Fibus is Europe's leading factoring specialist, helping SMEs and ISEs to finance their growth
Did you know? Factoring is the main source of short-term financing for businesses in France and represents 17.6% of GDP. Fibus (formerly Chateaudun Crédit) is Europe's leading factoring brokerage and helps businesses to insure and finance their accounts receivable. What sets it apart? A unique offering spanning factoring, credit insurance and digital solutions. Here we interview Gaëtan du Halgouët, joint Managing Director of Fibus.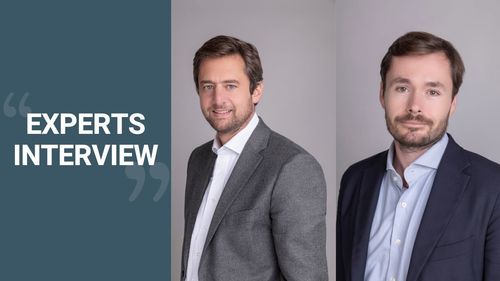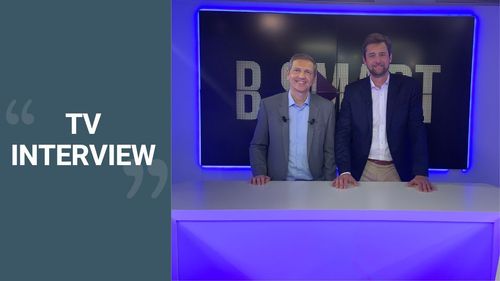 How does factoring support the growth of international SMEs?
Discover the interview of Thibaut Robet in the programme
LE GRAND ENTRETIEN
with Thomas Hugues produced by Le Point and B SMART!
The Managing Director of Fibus answers the following questions:
▪
How does factoring serve the growth of international ETIs?
▪
Why is it the tool to secure their activities in a deteriorated economic context?
▪
How does ARI Trade, Fibus' digital solution, optimise factoring and credit insurance programmes?
Contact us to find together the best solution for the financing your accounts receivable.